IceWarp vs Zimbra
Joining us on the starting line, we have two impressive racing teams. First on the grid is Zimbra, the established outfit with a "slow and steady wins the race" mentality. Next, we have the lightweight and affordable IceWarp, determined to steal a march on the field. We're in store for an exciting three-stage rally race over a variety of terrain, which will test the strength, speed and adaptability of our competitors to the limit. So, start your engines, we're off to the races!
Stage 1: Features
The first stage will put our racers through their paces with a variety of obstacles to overcome along the way – just like the complex challenges of global business. Zimbra plods along with email and a suite of collaboration tools that is available as legacy open-source or a newer, paid Network Edition, which offers a range of features such as calendars, tasks, and file sharing.
Determined to impress the crowd watching from the roadside, IceWarp comes as-standard with an extensive range of features required for modern business communication, hosted on-premises or in the cloud.
So, let's put Zimbra and IceWarp through their paces and compare who comes out on top!
Dashboard & TeamChat
So, what is going to help IceWarp take the lead? First off, the IceWarp dashboard gives a clear overview of everything users need to always stay on track: new emails, mentions, notifications, and messages. With no dashboard in Zimbra, it's easy to lose your way.
IceWarp's TeamChat is a powerful instant messaging service that keeps everyone in the team on task and focused on the finish line. TeamChat supercharges collaboration with topics, pins, file sharing, file change history, group chat, external user access and conferencing – all available on the go through the TeamChat Mobile app. Meanwhile, Zimbra Connect struggles to keep pace with TeamChat, offering just a few features: basic file sharing (without tracing file changes) and member invitations.
WebDocuments
How often can your team complete a task with just one team member's input? From contracts to press releases and internal reports, any business document is going to be prepared, edited, reviewed, and finally approved by different people at every stage of the process. When it comes to real-time collaboration on documents, this is where Zimbra starts to slow down, with an additional installation of Zimbra Docs required. IceWarp offers file versioning and the ability to discuss and record all document change history – features not offered by Zimbra.
IceWarp speeds ahead with true online collaboration right in the browser, giving all users the fully featured experience. Everyone in the team can see and approve edits made and be in total control of all files and documents. When complex collaboration is required, IceWarp makes everything quick and easy, helping them power forward into the lead.
Conferences
In rally racing, if you have to change or install new parts on the go, you'll be left working at the side of the road while everyone else speeds past, leaving you in a cloud of dust. Just to get conferences working in Zimbra, you're going to need to install Zimbra Connect. Even then, conferencing and recording only works after also installing Zoom or Jitsi with Dropbox as well. By this point, Zimbra is weighed down and seriously struggling to keep up.
With IceWarp, there's no need for Zoom, Jitsi or Dropbox. There's no extra cost of demanding setups or deployments and no additional services necessary. IceWarp provides everything you need for conferencing and recording for up to 200 attendees, right from the starting line. Now that really leaves the competition lagging behind!
Cloud cover
If you want to win the global race, you're going to need cloud solutions that can keep you moving forward worldwide. Zimbra's paid Network Edition can run on the cloud but only in the US and Canada, at the time of writing. IceWarp offers the choice between on-premises or cloud solutions, anywhere in the world. With its ability to race forward globally, IceWarp's lead over the competition really is growing by this point.
Mobile apps
If the need for a detour suddenly arises, you're going to want full flexibility of mobility. Unfortunately, Zimbra doesn't offer mobile apps, except for ActiveSync support on mobile devices. Ease of mobility gives IceWarp an edge, with a range of mobile apps including TeamChat, FileSync, IceChat, and Authenticator. IceWarp gives users full access to their data and the ability to communicate with colleagues in real time, wherever they are. If this wasn't already becoming a one-car race, IceWarp allows users to join meetings from Apple CarPlay or Android Auto while they drive. IceWarp, just remember to keep your eyes on the road and drive safe!
Desktop email
Even while totally stationary, IceWarp is leagues ahead of the competition. If team members prefer to work on desktop, the IceWarp Desktop Client is a fully featured email client and alternative to Outlook that users love. With Zimbra, you have to install Outlook, then download and install Zimbra Connector for Outlook. Guys, if you want to catch up, you're going to have to try harder! Wherever you want to work, IceWarp will put you in the lead.
Stage 2: The Deployment & Maintenance
After Stage 1, IceWarp has set a pace that Zimbra just can't match and that's why it's trailing far behind. But in Stage 2, Zimbra has a chance to catch up and retake pole position.
Zimbra is built for Linux, so to use it on a Windows server, you'll need to install a virtual machine. Skip the hassle and use IceWarp instead, which allows you to choose between Windows Server and Linux OS. Zimbra boasts of its ease of integration with Slack, Zoom and Dropbox. But why not just install IceWarp? You'll have everything you need, straight out of the box, saving you precious time and IT department peace of mind.
IceWarp guides customers through the entire deployment process. Your IT team will get all the support they need: pre-implementation analysis, scaling and infrastructure design, even for HA setups. IceWarp also provides migration and training for both admins and users, and, finally, a custom-built data migration tool that promises zero downtime. All user data is migrated in the background and, upon data validation, the deployment switches to IceWarp. Maintenance is easy, too, with straightforward administration, AD/LDAP connection for easier user provisioning and no need to give the IT department a headache with updates or client apps.
Stage 3: The Price
The final stage is upon us. It's a test of endurance and the vehicle with the most fuel left in the tank will have the best chance of crossing the finish line first. 
When it comes to business, money is fuel. The more money you save, the further you'll be able to go. So, let's compare who is most efficient when we crunch the numbers on a company with 500 employees requesting a 3-year license. Check out who wins the total cost of ownership (TCO) race.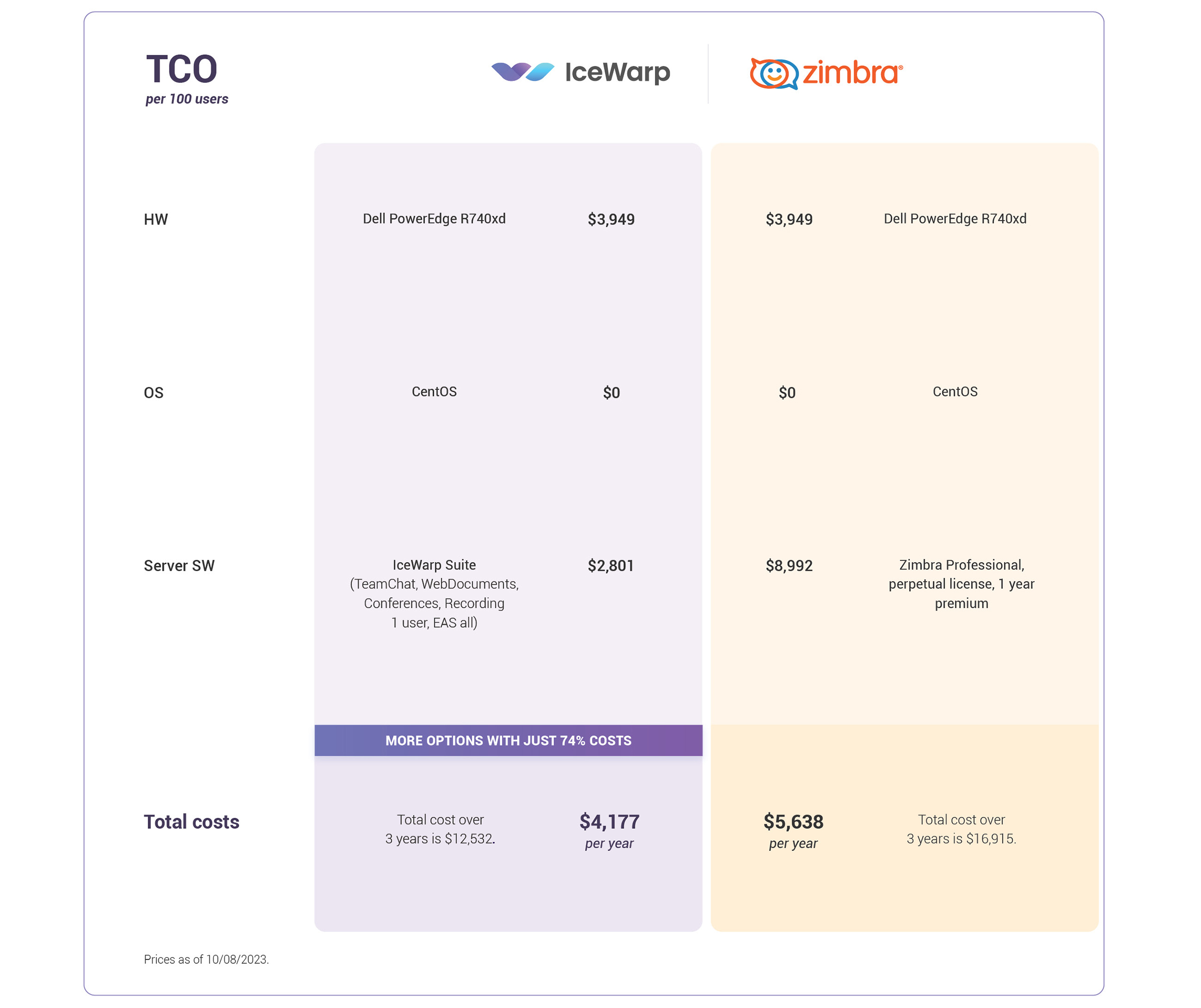 The finish line
IceWarp comes in at just 70% of the cost of Zimbra and storms across the finish line with a speed the competition just can't match. With savings like these on business communications, there's plenty left in the tank for wherever you or your business wants to go next. Leave Zimbra in the parking lot and buckle in with IceWarp to power communication and collaboration for your business.
Explore more about how IceWarp stacks up against Zimbra, so you can make the right choice to win the global business race.