IceWarp vs Microsoft 365: Who's Really Best in Field?
As both teams take to the pitch, the bets are leaning heavily towards the usual league leader, Microsoft 365. But with this year's championship on the line, IceWarp, the most unlikely of local clubs, just happens to be standing in their way.
Everybody loves an underdog story, but does IceWarp have what it takes to put away this corporate goliath with an extraordinary goal and win the entire World Cup?!
The Pre-Game Warmup
By now, Microsoft 365, formerly Office 365, is a household name. That doesn't mean, however, that it's the only team on the roster. IceWarp may be new to some people's ears, but it's no stranger to the world of virtual office support.
For starters, one of IceWarp's star players is its all-in-one browser feature. Tired of clicking over to Word, typing up a document for a while, then needing to transfer over to Excel to continue your work, only to later switch again to Powerpoint to collab on a different project?
Dynamic, online workplaces often require employees to use a number of tools at once. And that's why IceWarp has all these features accessible in the very same browser. Nothing to download, no closing or opening apps; simply everything you need on the same exact screen.
The First Half
But now you may be thinking to yourself, "OK, cool, but my business needs Word, Excel, Powerpoint, etc. I don't want to use some dysfunctional off-brand." And neither would we. Luckily, IceWarp offers WebDocuments, i.e., Documents, Spreadsheets, and Presentations. And you'll be extra happy to know that WebDocuments not only work seamlessly with M365's counterparts but they also provide real-time collaborative editing.
Just picture your entire team working on multiple projects at once, each on a single browser, and saving time as they co-write, co-edit, and co-complete every document, spreadsheet, and presentation together. Now, that's the kind of passing it takes to win a football match!
Half-Time
As we reach the middle of the game, it still might not be clear to all viewers which team has a leg up. IceWarp and Microsoft 365 might feature similar creative qualities, but it's gonna take more than that to take the title.
That's where IceWarp's communication tools come in. Every virtual office is only as good as its virtual communication. Again, in a single browser, IceWarp offers a dashboard to every crucial conversation element you need.
Use the Business Email to elevate your work mailbox to a secure cloud solution that all remote employees will love. But why stop there? Effective communication doesn't start and stop with emails (thank God!).
You also have Teamchat for any conversations that just can't wait for an official email, or simply to message your workplace bestie about last night's score. Teamchat lets you do everything you're used to:
Chat in groups organized around projects,

Upload files,

Mention coworkers,

Comment on posted emails,

Pin important posts,

And even integration to all of IceWarp's other features.
So, email and chatting are great, but do you remember the good ol' days when you'd actually see your friends at work face to face every once in a while? Well, even during the era of "remote or bust"-style offices, you can still have that bit of social interaction, all while using the same tool.
Conferences mean no switching over to 3rd-party video callers or trying to get everyone working on a project to download the same app before a meeting. Football teams have a lot of players, which is why Conferences can support up to 1000 callers, even allowing you to share today's playbook with them using handy gadgets like screen sharing, real-time chat, and moderation.
The Second Half
Alright, alright. WebDocuments, an all-in-one browser, email, chat, conferences… It's all starting to sound pretty good. But no championship match is complete without a hattrick. For IceWarp to actually beat M365, it's going to need to score a goal where it matters most: Pricing!
Given that IceWarp offers every single tool your virtual team needs, it'd make sense for it to cost just a bit more than Microsoft 365… right? Wrong!
Just as many football fans don't actually follow the entire match, instead opting to simply watch the highlights later, let's skip to the good stuff by comparing IceWarp and M365's pricing below.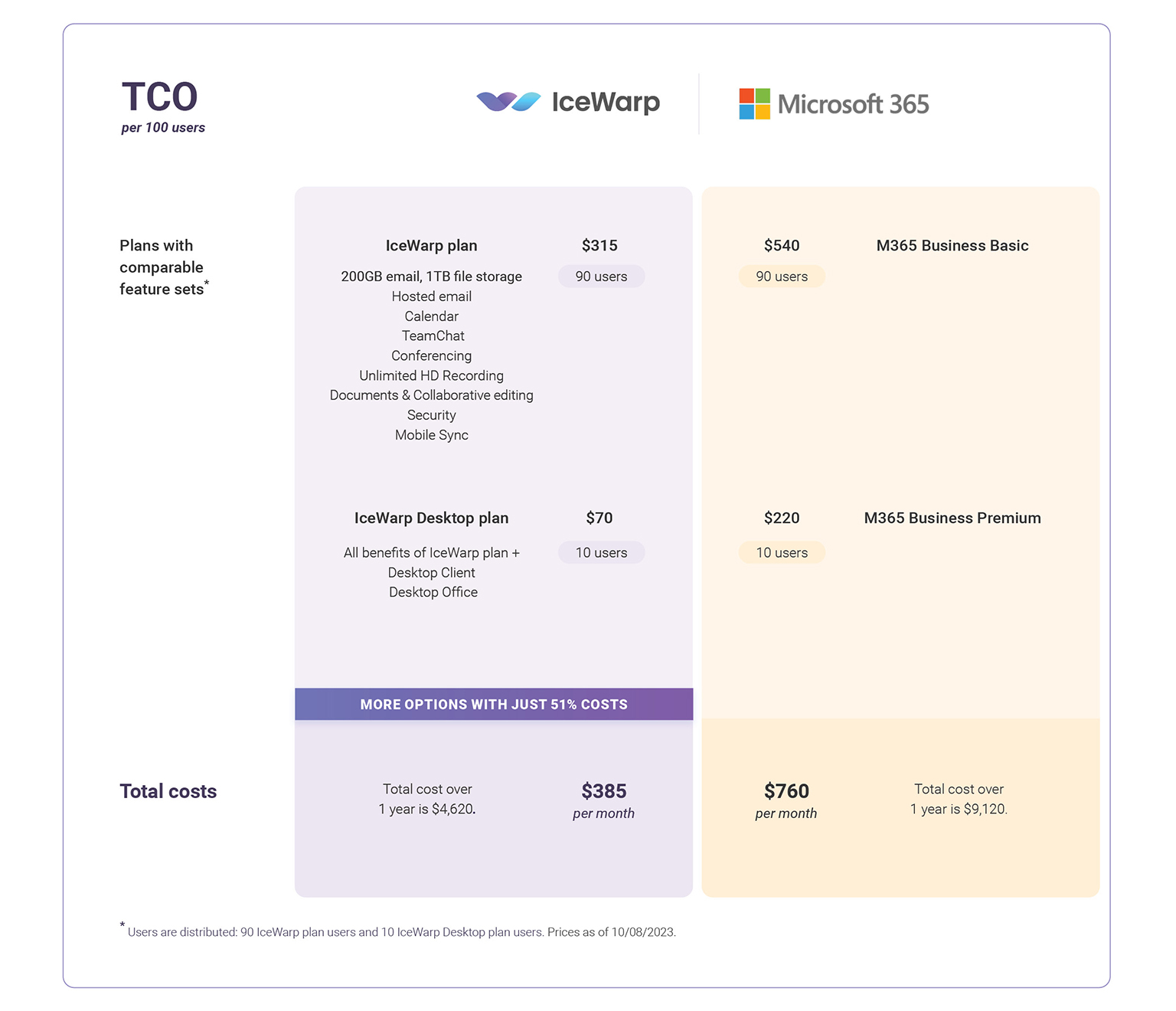 Overtime
But wait… If these numbers are correct… That'd make IceWarp… 50% cheaper? 50% CHEAPER!? GOOOOOAAAAAALLLLL!!!!! Icewarp scores, it wins the WorldCup!
IceWarp makes a spectacular goal right before the final whistle! IceWarp literally does Microsoft 365 better than Microsoft 365 can, offering all the tools you're used to, with all the added features you've wanted all this time, and it's **checks notes** 60% CHEAPER than what you're used to paying! Just give them the trophy already, this match is over!
Which Team Do You Want to Be On?
Two teams may have taken the pitch today, but only one is walking away victorious. In today's ever-evolving world of virtual offices, there's no time to fall behind. Simply put, Microsoft 365 should get a red car for offering too little while costing too much. IceWarp's cheaper, all-in-one browser solution wins this matchup every time!
High prices, too many downloads, and time wasted on too many apps… Don't let your company get fouled out before it can even get its cleats on. IceWarp's standing at the ready to take the corner kick. Will you be there to complete the crowd-thrilling header, or are you just gonna let the ball roll out of bounds?
Tired of getting called off-sides? Then promote IceWarp to team captain, and watch as the goals start scoring themselves!